Customer Reviews – Testimonials from Horse Owners
Treating Acute Laminitis – Using the Outlaw Shoe
The whole idea behind the Outlaw Shoe is "Don't let a horse suffer needlessly with laminitis or founder".
I have been a farrier for over twenty five years and have seen a lot of horses go through a lot of pain when they shouldn't have. The first thing I would want to do is buy the best pad/shoe available on the market and stop the pain of laminitis (The OUTLAW Pad and OUTLAW Shoe care for horses with laminitis and founder). With a little information on what happens in a laminitis case and what could go wrong. Things can be stopped or at least helped. I have taken all the best parts of shoes, pads, ideas of movement in the foot and inflammation as it relates to blood flow. Put in a shoe/pad called the Outlaw Shoe or W shoe. This shoe can and does make a bad situation better. I don't know why any one would let a horse suffer by standing on a sore foot, when a solution is only a phone call away or by using a pair of Outlaw Pads on hand. The Outlaw pad is a composite shoe that can be taped or glued on in a mater of moments.
The Outlaw shoe has been used on thousands of horses in the form of reverse shoes and has proven its worth many times over. I don't know many farriers that have not used a reverse shoe in one form or another. Helping sore footed horse is our main goal in making this shoe/pad.
Thank you.
Robert Osborne
The Blacksmith Shop
Testimonials from Horse Owners
Here are testimonials from horse owners who have used the Outlaw Pad and Outlaw Shoe products to care for their horse. Interested in adding your own Testimonial? To add your testimonial please contact us.
Testimonial – By Larry
Dear Rob just wanted to send you a note to let you know how pleased I am with your glue on shoe. I have seen remarkable results in just two days. I would totally recommend this product to anyone who cares about their horse. I have a small ranch out in Arkansas and have five working horses and they are all extremely special to me. I haven't had too many horses founder over the years to this extent. But so far I'm just thrilled with the results. You can use my name and email address to anyone who wants to verify with me personally is just that good.
Thanks again
Larry Smith
Testimonial – By Marc
I acquired the "Outlaw Shoe" at the AAEP booth at Anaheim Nov. 2012. When I treat an acute laminitis case, moving the breakover, elevating the heel, and redistributing the weight-bearing surface are the main things I'm trying to accomplish. I've used these shoes on two cases so far with positive results. They are easy to apply, provide immediate relief (along with medical treatment), and are very economical compared to other options. I just re- ordered two pairs so I can never be without one in my truck — Marc P Laxineta DVM
Testimonial – By Maggie
Thank you: OUTLAW SHOE
My 14-year old Thoroughbred gelding Bailey and I have been training and showing in the first level of dressage. Bailey's hooves have very low heels and are prone to bruising. My farrier Robert Osborne came up with solution of egg bar shoes and wedge pads. It seemed to solve the issue, at least for some time. Lameness became a reoccurring problem emerging each time after a few weeks of intense training. Rob tried other alternatives and when that didn't work he suggested to me to contact the vet. After a series of tests and x-rays Bailey was diagnosed with collateral ligaments injury. I rigorously complied with the vet's instructions resting Bailey in his stall for 6 months with just 5-minute hand walking a day. When he finally recovered we were ready to resume our training program starting slowly and gradually turning up the volume. After several weeks Bailey got lame again. Rob suggested that we should try something unconventional. He shod my horse with the open toe heel support heart bar shoe (the outlaw shoe) and wedge pad for extra heel support and lift. Rob advised me to wait and give Bailey time to adjust to new, pretty severe angle. We didn't have to wait long to see positive results and quick turn around in Bailey's recovery. Shortly my horse and I were back in our regular training routine. Now we've been through three consecutive shoeing sessions using the outlaw shoes and Bailey is staying sound. Thank you Rob for all your dedication, patience and after all for coming up with such a great idea in effort to help my horse! — Maggie Anthony
Testimonial – By Kate MacPhail
You're the best.
Hi, I ordered a set of outlaw shoes on Friday and I just wanted to send you a quick note thanking you. I just wanted to let you know how impressed I am with the quality and design of your product. I run a rehabilitation farm in NY and regularly have horses sent for laminitis care. We have used many products such as soft ride, nanric, dalric cuffs, and sigafoos and have found a general lack of a good option for the really tough ones with a distorted hoof capsule needing support without additional sole pressure.
Your outlaw shoe fits that job perfectly! I plan on ordering a set in each size next week. This particular horse you have helped so much is a chronic founder that had previously been stable that flared with severely prolapsed sole, open granulation bed, and 25+ degrees of rotation. She walked 75% better off the crossties when I switched her to the outlaw shoe taped on.
Thank you for your product and also for your fantastic service in getting them to me so quickly!
Sincerely, Kate MacPhail Takoda Farm LLC
Testimonial – Beverly Branning's Horse Rio
This is a 25 year old gelding named Rio who has foundered in the past ten years from being over feed on protein powder feed. Rio started showing signs of laminitis with in a few days the Outlaw shoe acute laminitis pad was applied to Rios front feet. It took about two weeks for the initial insult to be stable enough to apply a static shoe. (Outlaw shoe steel) He responded so good to the Outlaw shoe acute pad that I decided to go strait to the Outlaw shoe heart bar shoe with a pour in pad from the tip of the heart bar covering the entire heel. You can see from the photos there is less damage at the toe which has more pressure then any other point of the coffin bone as it pertains to abscesses or bruising in laminitis cases. The open toe option is the best choice for laminitis and founder because of the benefits it offers full heel support and frog support like a traditional b-shoe but with the open toe it increases blood flow of the circumflex arteries supplying blood to the front of the foot. Also the open toe limits the amount of bruising because the coffin bone is pushing down and if nothing is pushing back on the sole you will not get bruising or abscesses, also increasing venous blood flow during weight bearing. The whole design of the Outlaw shoe is to support and reduce pain in the foot. Increasing healing and with less insult to the sole and foot. I have had incredible success using the Outlaw shoe with laminitis and founder horses. I hope farriers or horse owners alike can see the benefits and use the Outlaw shoe to help horses not have to suffer needlessly.
Thank you again Robert Osborne farrier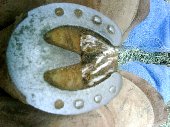 Testimonial – By Joe Rosenberg D.V.M.
As a mobile veterinarian, I'm always looking for products that help me address my patients' needs in the field. Outlaw Shoes allow me to treat acute laminitis and sole abscesses with relative ease and versatility. The variable sizes allow me to apply them to the individual patient's hooves, and their durable construction hold up even in the worst footing and pen conditions. Though designed to be glued on, they can just as easily by applied with elasticon tape, allowing myself and clients to inspect and treat the foot as frequently as desired. For laminitic cases, the Outlaw shoe come with a 5 degree wedge that can be increased (if desired) by applying dental impression material to its wide heel plate. And sole abscess dressing changes can be done, in some cases, directly through the bottom of the shoe without having to remove it. I highly recommend Outlaw Shoes be included in your emergency field hoof kit.
Joe Rosenberg D.V.M.
San Diego, CA
Testimonial – By Don and Tina Slagle
I've been in the halter horse business since 1985 and fortunately I had never encountered founder before. I recently purchased a mare that was diagnosed with founder and her feet became worse and worse.
After trying all the known remedies I went to the internet to try to find some kind of shoe that would help relieve the pressure and pain she was going through. She was so tender that she could not stand to have a standard shoe nailed on.
That's when I saw the Glue On Outlaw Shoe. I ordered a pair and had my farrier trim her and apply the shoes. Her first steps in the new shoes showed me that her pain had definitely decreased. Also, she was losing hoof and showed no growth. After two months in the shoes I could see noticeable hoof growth and repair.
I know that she has a long road ahead of her for healing but thanks to the Outlaw Glue On Shoe, I believe we are traveling in the right direction.
Thank You, to The Black Smith Shop. They spent all the time I needed to explain founder and laminitis and the use of the Outlaw Shoe and their service is faster than any I have ever had.
Again thank you.
Don and Tina Slagle
Security Stock Farm
Carthage, Tn.
Testimonial – By Dominick Giacobbe
I just wanted to tell you that the foundered shoe you made saved a client of mines horse. When I picked up this account she was talking about putting this horse down, He had foundered really bad when I got to him. He could not even walk. He was so bad that I could not even pick up a front leg to trim let a lone pick it out. I told her a friend of mine invented a foundered shoe that he can swear bye it works. So I said let me try the shoes before you put him down. He was so sore I had to drug him so I can at put one shoe on then the other. This woman called me a few days later and told me the horse was trotting in the arena the next day. She could not believe it. She thanks me every time I go out to do the horse and I tell her she should thank Robert C. Osborne who invented the shoe. Thanks Rob and my client and her horse thanks you. Great job.
Dominick Giacobbe,
Farrier,
San Diego, CA
Testimonial – By Dr. Brett Gaby of Essex Equine
Our practice, Essex Equine, has used the Outlaw shoe for the past two years. The majority of the outlaw shoe applications deal with the acutely laminitic/foundering or chronically active foundering horse or pony. Approximately 85-90% of these horses are metabolically challenged. As veterinarians we are typically the first responders to these emergencies situations. While therapeutic treatments may vary among practitioners, it is generally agreed upon that minimizing further inflammation within the hoof capsule and maximizing mechanical support are essential to a successful outcome.
Mechanically the Outlaw shoe (open toed wedged heart bar) configuration is an excellent shoe for the treatment of laminitis and founder. The open toe optimizes dorsal break over, minimizing the movement arm around the parietal surface of distal P3. Minimization of solar pressure (solar relief) optimization of heel support, decreased deep flexor tendon (wedging) with bony column (coffin bone) support.
In an ambulatory practice where foundering horses are regularly seen, rapid application of the Outlaw optimizes the clinician's chances of a successful outcome. Additionally the shoes can be applied so rapidly that minimal supportive limb weight bearing is required.
Typically the Outlaw shoe is vet wrapped during the initial treatment period. The horse/pony is re-assessed following application within 2 to 3 days, based on clinical response to the shoes or severity of the founder the shoes are glued in place. The glue and activator is much easier than other glue-on options I have used and still use. I highly recommend the Outlaw shoe for veterinary practices that treat laminitis and founder. Additionally, the shoe has proven to be useful in assessing shoeing options for the collapsed heel/negative palmar angle horse. Podotrochlear pathology may limit the ability to load share and elevate heel, therefore, the removable outlaw shoe can test the horse's response prior to application of the nail on option. We have worked with local farriers to assess these variables.
Essex Equine
84 Sampson Road
Bolton, MA 01740
Testimonial – By Arlena Pipkin, DVM
Good morning…I spoke and purchased two sets of outlaw shoes at the AAEP this past December. I used one set for the first time 5 days ago on a horse that has absolutely no sole, suffers from healing quarter cracks on a size 0 1200 lb appy reining horse. His farrier and owner have been doing a great job with weight control, corrective therapy on the crack. However, the last time he was trimmed (and doing well) had a simple keg shoe applied with equithane and I believe it fried the sensitive laminae just beneath the extremely thin sole (2 mm at most) and how has a thermal burn on the solar margin of p3. He is leaking fluid from the apex of the frog. P3 is in alignment without no rotation. Foot wrap, solft ride could not make him comfy, so I put on an outlaw shoe and the relief was IMMEDIATE! Post placement xrays validate the perfect alignment of bony structures. Thank you for this immediate relief.
My question is this…can he live in this shoe until he grows sole – which is a significant problem in this horse?
The Outlaw Shoe's response is Yes. Yes he can live with it, just confine him to stall rest during this period.
Thank you,
Arlena Pipkin, DVM
Panama Equine Hospital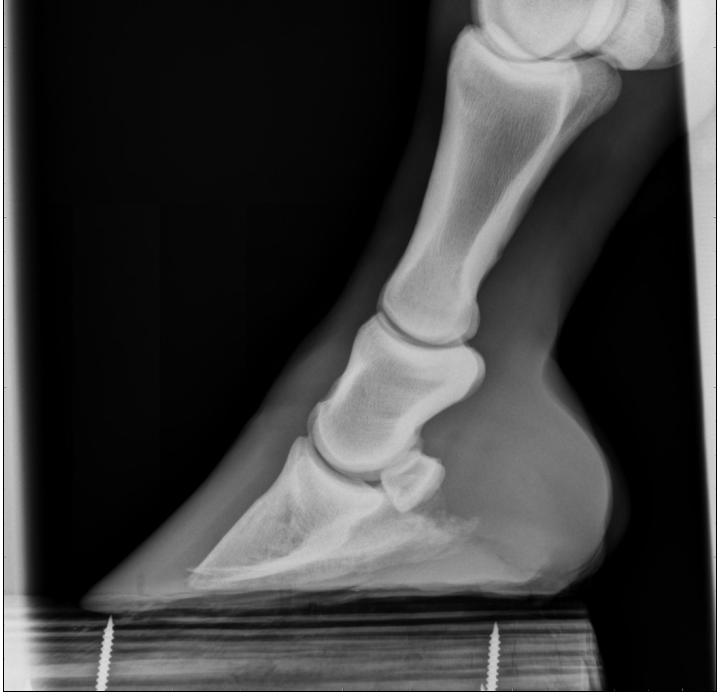 Thank you for taking the time to chat with my staff this am…I appreciate the efforts to send us a prototype and will return what i cannot. Thank you!
Here are the radiographs (jpg's) of mikey feet. There was another xray that showed where he was leaking and it is just before the apex of the frog. He is still very comfy and has not walked out of the shoe.
I will try to keep you posted as things go. thank you again for your help.

Dr. P
Testimonial – By Valerie Oats
My Morgan mare foundered when she was younger and is prone to abbesses, so when I called my farrier to tell him she was once again lame, I was ready for yet another long period of recovery. My mare, Selena, was having a hard time walking and would not put any pressure on her right front foot. My farrier took a look and called the vet to get her opinion also. They both agreed that the "glue on shoe" was the way to go. To my utter surprise and joy, after he applied the shoe, my beautiful Selena was once again walking normally. She not only had a less painful recovery but also healed in about half the time she normally did. I can not tell you what a God send the "glue on shoe" is. I would highly recommend it to any one with a horse who has foot problems.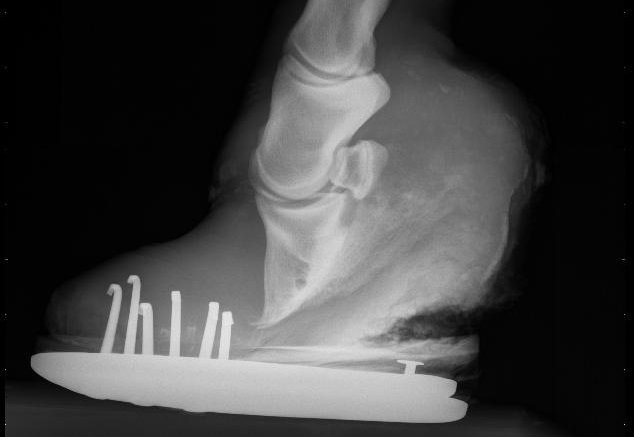 Morgan Horse after using the Outlaw Shoe
Testimonial – Princess
In 2009, our ranch went on a rescue mission to save horses that were headed for slaughter. I came across an old and very thin cremello mare. Covered and caked in mud from head to tail with hooves that looked like they hadn't been touched in over a year. Upon getting her home and cleaning her up, her first appointment was with the farrier. For months I fought thrush, using all kinds of remedies. It seemed like everytime she had a trim, another abscess erupted. This mare's hooves were so dangerously soft that caution had to be taken during her trims. She also had crushed heals and because of her long toes the load was too much on her fetlock joints. I tried frequent trims, shoes, pads, glue on therapeutic shoes and nothing seemed to work. Then along came the Outlaw Shoe, invented by my farrier Rob Osborne. Designed for founder and navicular horses he thought it would be worth a try. What I noticed immediately was that her heals had stability by eliminating the load bearing on her fetlock joints and that there was more control with taking back her toes, which resulted in a more reasonable break over. In other words, the Outlaw Shoe fixed her poor angles. After a couple of shoeings, her heals firmed up and were no longer mushy. The thrush has reclined and Princess is able to get around much easier even running and bucking in turnout!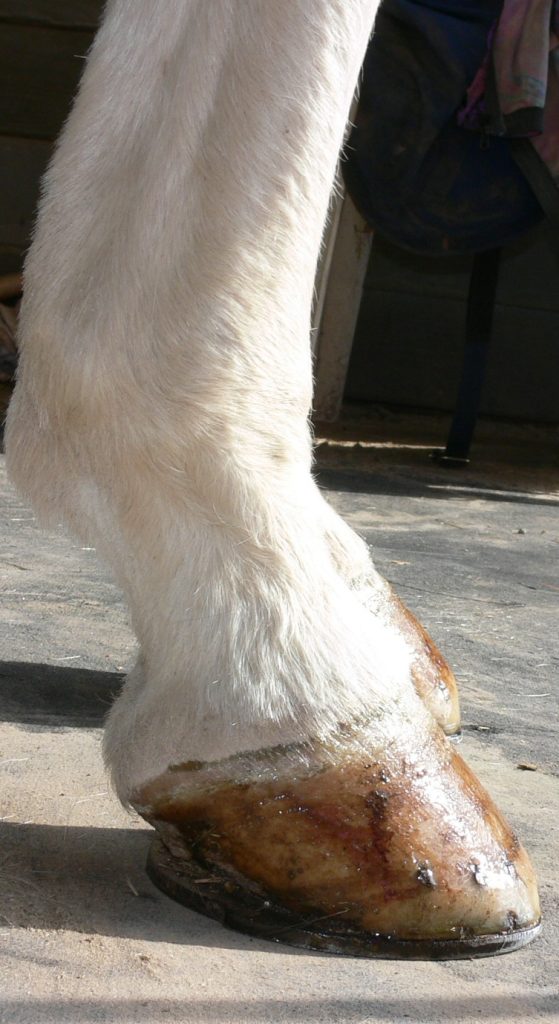 Testimonial – Sea Mist
I would like to let everyone know about the Outlaw shoe it saved my horse. When my farrier told me my gelding was foundering and to call a Vet I couldn't believe it. My Vet ran tests and confirmed that my lovely Sea mist has Cushing's and was indeed in the acute stage of founder. I did some research and found the OUTLAW SHOE and had my farrier put it on along with the proper medications form the Vet. It offered my horse incredible relief of his discomfort and started moving around which was like a medical miracle "Thank the lord." We followed the program with the acute laminitic shoe for the painful stage. Once the pain was gone we went to the OUTLAW shoe Steel full heel support he has been in these for eight months now. It was nice to have a shoe made for founder to go to. My farrier says we can go to the standard open toe heart bar shoe or the full heel support shoe made by the Outlaw shoe company The Blacksmith shop. If all goes well and he stays on his medications for Cushing's I will be back riding soon.
Thank you for help me "OUTLAW SHOE"
Kathleen Stogdall
San Diego, CA